Salty Boats of Maine

Salty Boats of Maine is a small family business that was started in 1991 by Bruce and Cabot Trott.
Since that time the company has grown from building a single 8' Dinghy to several other models and we are still expanding.
We also build custom composite items as well as repairs and complete restorations of small to medium size boats.
We started this business with the idea of keeping the traditions of Maine Boat Builders combined with the technologies of today.
We perform fiberglass repairs such as transom replacement, new deck, consoles, hull repairs, gelcoat repairs
and more. We can take your old boat and give it new life.
Salty Boats of Maine has several small boat models that we build new as well as custom work.


Bruce Paul Trott 1933 - 2009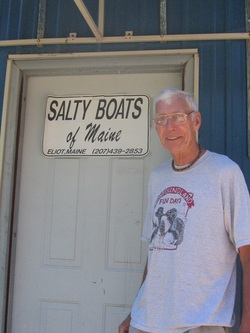 Bruce Trott was not only my partner in Salty Boats of Maine but my father. He was a friend, an inspiration, as well as a role model. I thank he and my mother Betty for all their support and guidance.
---